Elwyn provides many different autism services for kids and continues to take an active interest in all forms of children's behavioral health. One aspect of autism services is therapy, and some families choose to make use of a therapy dog to assist their loved ones with autism. Carol Landis, one of our dedicated community volunteers, brings her trained therapy dog to Elwyn to help the children.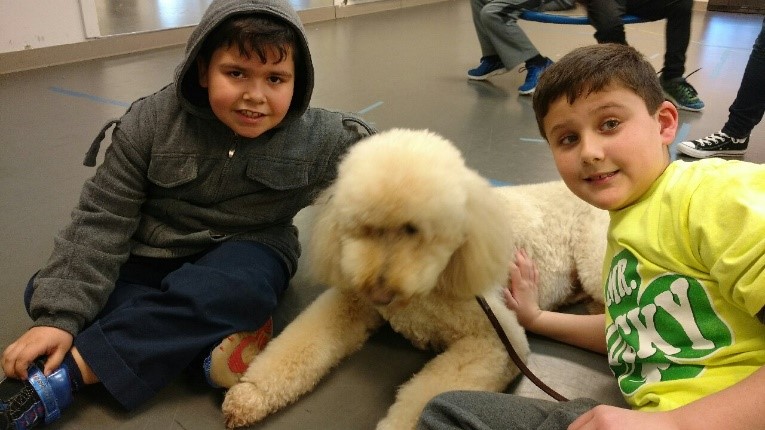 Oliver (Ollie) was born on April 12, 2005 in Australia.  His owners had decided that they wanted a Labradoodle to train as a Therapy Dog.  These dogs were not very well known in 2004 when they started researching them. Ollie's owners found him at Rutland Manor in Australia, which was one of the founding breeders of Labradoodles.  These dogs were bred for a purpose: to have the work ethic of the Labrador Retriever with the non-shedding characteristic of the Poodle. Both breeds are smart and great to train.
Carol had to fill out a very extensive form about her experience with dogs: from the various dogs she had owned over many years and what training they had, to what food she provided and her vet references.  Other important factors were: would there be other children in the house; and what roles would the dog have, such as a pet, therapy or service dog. They did personality testing in order to choose just the right dog for Carol.
Because Ollie had to fly here, his owners spent many hours preparing him for the trip.  He had to be flown from Australia to Los Angeles where he was met and taken off of the plane and cared for overnight by an experienced dog person.  He then was flown to Philadelphia the next day.  Carol's family picked him up at the airport when he was about 14 weeks old. He was as calm, cool and collected as he is today and Carol considers him a perfect match for her.
Ollie settled in with the other 3 family dogs immediately.  He received basic training and then he had extensive training to be a Therapy Dog.  He had to be comfortable with other people handling him, be around loud noises (like children who may need autism services), learn to be around crutches, wheelchairs and situations in different places.  He passed his test and became a Therapy Dog in 2007 and has visited many children in different surroundings since then. He is calm and quiet and kids love to pet, kiss and love him.  He is a feel-good boy!!
Ollie is extremely well mannered and remains cool and focused no matter what excitement is going on at the Autism Resource Community Hub (ARCH).  During Ollie's visit, ARCH staff works with the children receiving autism services on different social and communication skills areas such as spatial awareness, impulse control, verbal and gestural communication, initiation and peer interactions.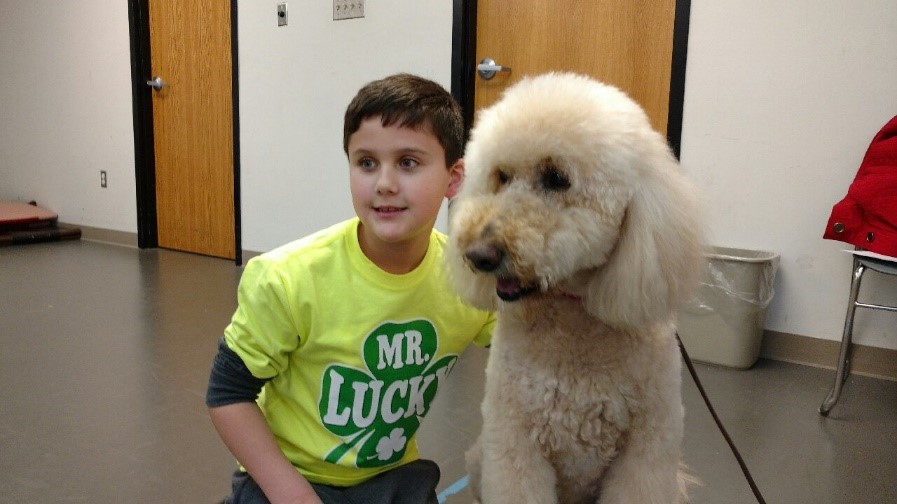 Elwyn Provides Many Autism Services for Kids in Pennsylvania
Elwyn's Autism Resource Community Hub (ARCH) is just one way that we provide autism services for kids in Pennsylvania. With the help of committed staff at the Davidson School and caring community volunteers, we are able to offer a variety of aids, including summer camps and summer planning. For more information about Elwyn or our autism services for kids contact us today!