Janet decided she was ready to re-enter the workforce after a lifetime of struggling with hearing loss. To prepare, she turned to Social Security's Ticket-to-Work program, which provides career development for adults with disabilities who want to work.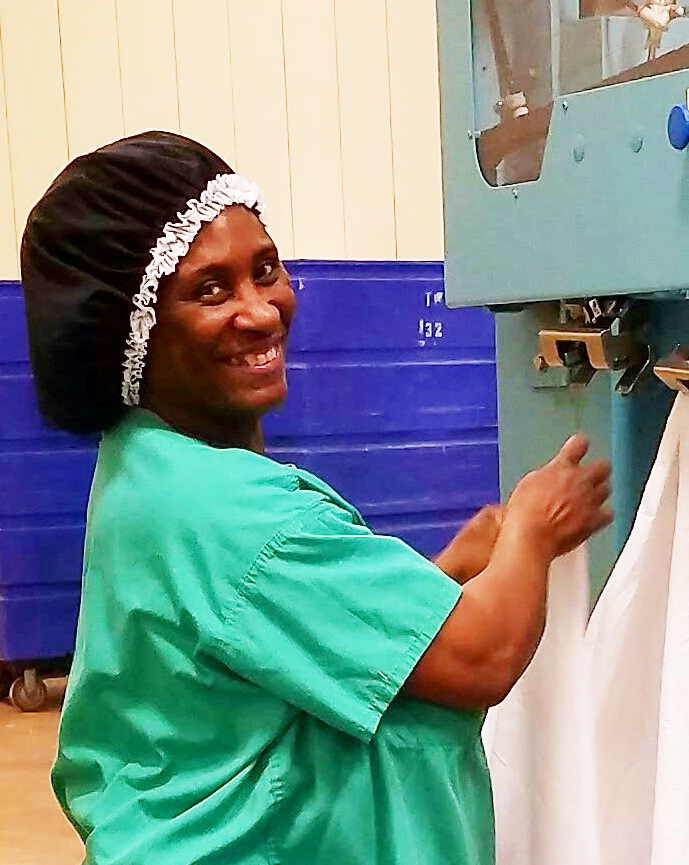 "Even though I had not worked full time in a long time, I always believed in myself and my ability to work," said Janet. "I just had no idea how to go about applying and interviewing for a job being deaf, or whether I could handle working in the "Hearing World". If I'm being honest, I was also really afraid of the impact going back to work full time would have on my benefits. As much as I needed more money, I didn't want to risk losing my Social Security monthly cash or health benefits."
Janet learned about the Ticket-to-Work program from a presentation Elwyn made at The Pennsylvania School for the Deaf. After a presentation in 2011, Janet began working with Elwyn's Employment Services Ticket-to-Work Employment Network. With the help of her career counselor, Janet found a job that she was suited for, appealed to her, and met her needs. For the past six years, Janet has thoroughly enjoyed her employment with Commercial Laundry.
Elwyn's Ticket-to-Work Employment Network helped her make that difficult transition from receiving benefits to being gainfully employed.
"Getting this job through Ticket-to-Work made all the difference in the world," said Janet. "Having them support me with career counseling, an interpreter, and advice on the impact working would have on my benefits gave me the understanding and confidence I needed to get a job. Just knowing that someone was looking out for my interest freed me up to just be able to work and do my job well. I wouldn't have been able to succeed in my job if I hadn't had them to reach out to. My fears would've taken over, and I'd be right back where I started: scared and unable to work."
Janet also said that "Being able to work has helped improve my life in so many ways. It's kept me motivated and happy each day. And being independent and productive gives me a great reason to get out of bed each morning and do something I love."
About Ticket-to-Work
Social Security's Ticket-to-Work program supports career development for people ages 18 through 64 who receive Social Security disability benefits (SSI or SSDI) and want to work. The Ticket-to-Work program is free and voluntary. It helps people with disabilities move toward financial independence and connects them with the services and support they need to succeed in the workforce.