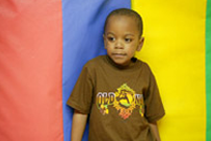 Elwyn's Education Division programs foster collaborative working relationships with students, families, community members, school districts and service provider agencies as partners to promote student success. Educational programming is designed to support each student in achieving his or her maximum potential academically, preparing them to live and work independently, building self-determination and purpose.
Overview
Elwyn's Division of Education provides a rich and functional learning environment for students ranging in age from 3 to 21 years. The Division's mission is to improve the quality of life for students and their families who face a variety of challenges including:
Intellectual disabilities
Vision and hearing impairments
Social-emotional and behavioral challenges
Communication difficulties
Autism Spectrum Disorders including Asperger's Syndrome
Medically fragile
Academically at-risk students
Neurological impairments
Education Division programs are designed to provide on-going assessment and instruction in:
Corrective reading and math
Life-skills development
Communication and social skills training
Adjunctive therapies (Vision, OT, PT, Speech, Psychological services)
Behavior support
Community inclusion
Community-based instruction
Transitional skills training
In addition, the Education Division is a resource to families, other school entities, agencies and communities. Their expertise is demonstrated and shared at local, state, national and international professional conferences.
Executive Director
Kyu Hwang, Executive Director of Early Childhood and Education
As Executive Director of Elwyn's Early Childhood Division and Education Division, Ms. Hwang oversees a total of 600 employees and is responsible for all program operations including external communication and expansion projects. Ms. Hwang came to Elwyn in 1982 as the Director of the Development Center. In 1995 she became the Director of Davidson School and soon after, Executive Director of Education. In 2009 she assumed all responsibilities for the Early Childhood Division. Ms. Hwang received a Bachelor's degree in early childhood education from EWHA Women's University, Seoul, Korea and a Master's degree in early childhood education at the University of Delaware. She has also completed all course work for her doctoral degree in special education from Temple University.
Education Services Programs