The Elwyn New Jersey's TSI program is located in the heart of Vineland, New Jersey. The program provides individuals with disabilities the opportunity to get engaged in and experience diverse vocational services and work-related activities.
An array of facility based experiences include activities such as arts and crafts, manipulatives, educational TV, games, physical activities, social skills development and review of current events. Vocationally-based activities such as manipulatives, arts and crafts, games and physical activities help build the individual's abilities and skills for task-related functions. These activities can eventually prepare the individual for more advanced, and more challenging, work-related activities.
Social skills development is a large focus through TSI's vocational service as it is critical for individuals to be able to appropriately interact with their peers and other individuals they come in contact with during any vocational or work activity.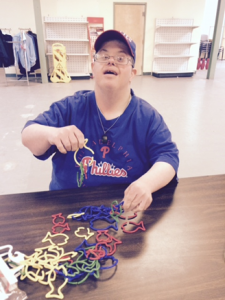 Social skills development and physical activity skills and development are often combined for fun, interest, and a welcomed break from sometimes tedious task-related activities. Such combined activities help individuals learn about working with a group, taking turns, and understanding how doing their part in the activity is important.
Elwyn New Jersey's TSI's vocational service includes an enjoyable daily routine with training and skill development at the core of each activity. Physical activity through game-playing is always a popular event.
Individuals supported through TSI's vocational services work on goals or outcomes that have been identified by the individual's team during the annual plan meeting. Goals or outcomes may be involved with education, enrichment and development to work toward the goal of meaningful or gainful employment. TSI staff members strive to engage individuals, to empower them by supporting them in their decision-making, and by guiding individuals through the day so that their experience is enjoyable, all while simultaneously assisting the individual in maintaining or building upon his or her skills sets.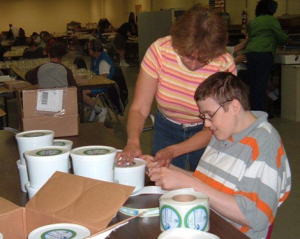 TSI's vocational service works to build the individual's skill sets to enhance the individual's life to its highest degree.
Although individuals largely work on tasks to build skills, a monthly community trip calendar is developed to ensure that established small groups of individuals can leave the facility each day for visits to local events and locations while working on their social skills and learning what current events and activities are going on in their community.
Everyone enjoys making money while completing a task which helps produce a product.
For more information, contact:
Allen Samuels, Director
856-794-8580 (Office)
856-794-8752 (Fax)