Hundreds of people packed into the Zier Recreation Center at Elwyn for our Davidson School Class of 2017 Commencement Exercise on Wednesday, June 14th. This was Davidson's 42nd Commencement activity, with 19 special education seniors donning their caps and gowns.

The National Anthem was sung by a group of talented vocalists who work in various areas of Elwyn including Purchasing, Physical Therapy and Education! A wonderful Commencement Address was given by retired Physical Education Teacher at Davidson, Deborah A Konar.
For young people who face challenges due to disabilities, a high school diploma represents incredible self-motivation, perseverance, and the culmination of years of effort and achievement. The 2017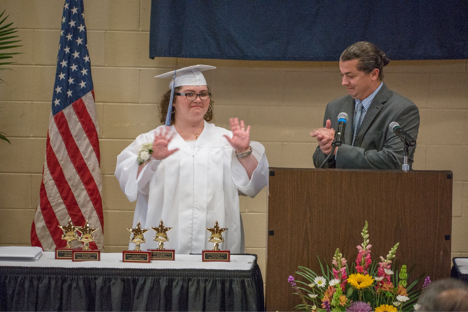 graduating class came from 10 regional school districts. Here are this year's Class Speaker and award winners.
· Class Speaker:
Briana Lee Saunders (School District of Philadelphia)
This award was given to the student who has been successful in achieving his/her goals during his/her time at the Davidson School. This student best represented the achievements and spirit of the current graduating class.
· Transition Awards:
Jackson Henry Groom (School District of Philadelphia) and Michael Noreika-Drabkowski (Upper Darby School District)
These awards were presented to the students who embodied an outstanding work ethic and the ability to utilize their full potential to become successful in a work environment. They also largely contributed to the Elwyn community.
· Davidson School Awards:
Elantra March'e Murray (Chester Upland School District) and Deja Warren (Chester Upland School District)
This honor was awarded to 2 students who represent the true spirit of the Davidson School through full effort, participation, encouragement of their peers, and pride in their school community.
The Davidson School is an approved private school licensed by the Pennsylvania Department of Education. It serves children and
young adults, ages three through 21, with a wide range of disabilities including behavioral, intellectual, and developmental, as well as sensory impairments, communication delays, multiple disabilities, and medically fragile conditions.