For many children, summer camp is a rite of passage, with fun activities, new friends and new opportunities. Elwyn, always a supporter and advocate for children's behavioral health, offers a Summer Therapeutic Activities Program, or T-Camp, a seven week summer camp expe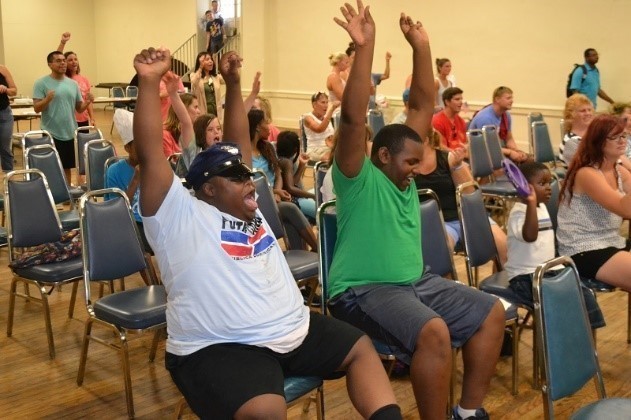 rience specifically for children who have a diagnosis of Autism Spectrum Disorder (ASD) and other related disorders. One of the priorities of T-Camp is to give these children, who range from the age of 6 to 21 years old, the chance to have as close to a normal summer camp experience as possible in a safe, therapeutic environment where they can be supported in developing social skills and coping skills.
All children need some sort of routine, though typically summer is a time to relax those routines. An ASD diagnosis creates a particular need to maintain routines throughout the summer months for these children. Without a consistent schedule and regular routines, regression in social skills can occur as well as spikes in challenging behaviors.
What Happens at T-Camp
Each week's activities have a different theme, which are based on 7 skills identified to improve socially significant behaviors and decrease problematic behaviors. These skills are: communication, cooperation, assertion, responsibility, empathy, engagement and self-control. The skills and activities are set up so that each subsequent week, the children build upon what they have learned in previous weeks.
Each morning, the children meet in small groups with a counselor to child ratio of 3:1. The campers are divided into small groups based on their age and ability. During focused, small group sessions, the children are taught new skills in a supported, therapeutic environment. In the afternoon, children participate in typical camp activities, where they are able to practice the same skill in a more generalized, typical environment that allows for the best chance of acquiring and maintaining the skills long term.
An example of the campers' use of the skills they have learned is their annual sponsorship of an Alex's Lemonade Stand. The stands,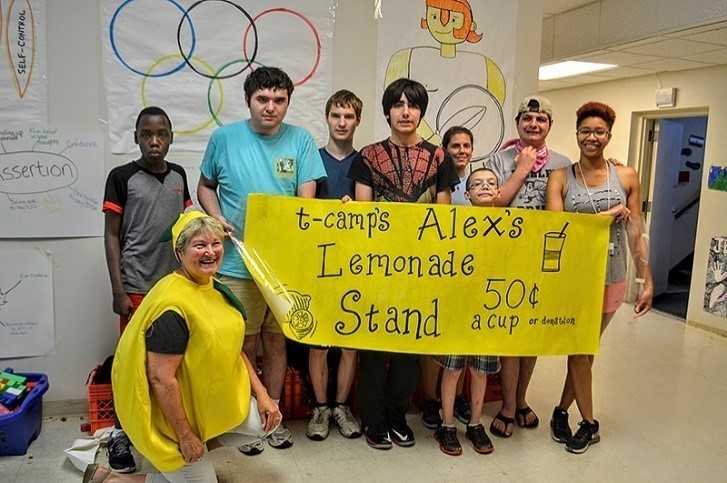 originally started by young cancer patient Alex Scott, raise funds for pediatric cancer research. Campers practice empathy as they raise money for other kids in need, as well as the other skills such as cooperation and responsibility; campers are responsible for making the lemonade and baked goods, as well as manning the stand and handling transactions.
In addition to the lemonade stands, campers are given the opportunity to practice hippotherapy (therapeutic horseback riding), swimming, community outings and much more. The campers and their families love T-Camp and most come back year after year until they age out. In one instance, a camper who had aged out was so enthusiastic about T-Camp that she went through training and preparation in order to become an integral part of the children's behavioral health team who makes T-Camp a success. The dedication and enthusiasm of the program staff really sets T-Camp apart from other programs. You feel the caring and commitment the minute you walk through the doors.
Family Involvement
In each Camp Season, a Family Day is held where siblings of the campers can participate with them in the day's activities. Two of these siblings were so impressed with the program that they have gone on to become members of the Camp Staff, which requires training and certifications. T-Camp's Case Manager Jennifer Ziegler's son has been a T-Camper, which led to her involvement as a Staff member. Gabrielle Desnouee, Director of Autism Services, feels that these examples directly speak to the uniqueness and quality of the camp program. Her favorite thing about camp is "watching the campers interact with staff. You can see that the staff is so committed and passionate and that the kids are feeling like this is where they want to be." Ms. Desnouee goes on to say that seeing the families of campers as they watch a dvd of the campers' activities is a moving experience. "I get to see the parents' expressions as they hug each other and murmur, 'I've never seen my child do that before!' and I get to see those kids really enjoy themselves." The program is extremely family oriented and allows families to feel that their children are in a safe environment where they can learn and grow to become the best possible people they can be!
Elwyn is Committed to Children's Behavioral Health
Elwyn's T-Camp is one of the few options for children diagnosed with ASD in Pennsylvania to have a nearly traditional camp experience and is just one of the ways that we show our commitment to children's behavioral health. For information about Elwyn's services contact us at 610-891-2000. To learn more about T-Camp, contact Gabrielle Desnouee, or the program directly at 610-891-2008.