Elwyn has been providing assistance, including autism services, to individuals with intellectual or emotional disabilities for 150 years.  We are also concerned with the environment, and fully believe that we can accomplish our primary mission in ways that also help promote better utilization of our planet's resources.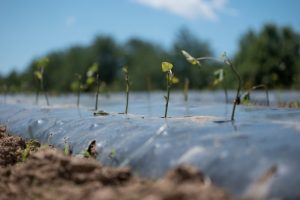 We have many green initiatives at Elwyn as part of our autism services in PA, but the true star of our ecological programs has to be the Elwyn Farm.  Through our farm, we can teach a wide variety of life skills – from basic motor development to advanced communication – while maintaining a healthy, natural source of fresh produce for our Pennsylvania school and for the community.
An Introduction to The Elwyn Farm
Founded in 2009, the Elwyn Hillside Farm is located in Media, PA, and provides life skill training for approximately fifty students in total – split between the farm itself and our farm stand.  Last year alone, the farm harvested over 24,000 pounds of fresh produce, benefiting both our own campuses and the local community.  We even donated nearly 1,200 pounds of food to the local food bank.
Student Program
Our students in the transition program work on the farm in 10-week shifts.  Depending on their level of ability, students could potentially be involved in the farm at every stage in the process – planting, watering, harvesting, selling, and winterizing, among other aspects.
Learning Skills and Communication
The experience provides excellent real-world life skills to all of the students involved, as well as allowing us to find useful work for every student based on his/her abilities.  Students learn to work together as a team, sharing in successes, while developing abilities that can help them transition into autonomous jobs in the future.  Our more advanced students work in sales at our weekly farm stand, developing invaluable communication skills which will aid them for the rest of their lives.
Conservation and Productivity
Our students learn how to grow and nurture produce, gaining an appreciation for the need of such occupations, as well as the feeling of accomplishment that comes with learning and productivity.
Students are taught about aquaponics, a combination of growing plants and fish that reduces the need for pesticides or other harmful additives to soil. Aquaponics also requires a great deal less water than traditional farming. All of our Media students also learn from the Healthy Harvest Center, our own food preparation service overseen by a licensed chef.
Elwyn's Core Values
Elwyn's green initiatives comprise a key piece of one of our core values: Sustainability. We believe our mission is essential. Elwyn has existed for over 150 years and those who came before us worked courageously to advance care for those individuals with intellectual or emotional disabilities. We have a duty to preserve and build upon their success and we endeavor to be good stewards by conserving the resources we have.
Learn More About Elwyn's Autism Services in PA
Our green initiatives, as embodied by the Hillside Farm, are just a part of our autism services in PA: designed to educate and empower our students to live healthy lives as productive members of their communities.  Contact us today to learn more.