July 31, 2017 – Media – Elwyn's Summer Therapeutic Activities Program – or "T-camp" as it is referred to by the kids and their families, held their annual fundraiser last week in support of Alex's Lemonade Stand Foundation. The campers, all with a diagnosis of special needs on the Autism spectrum, raised $490 in donations to contribute to the nationally-renowned Alex's Lemonade Stand Foundation, the Bala Cynwyd-based charity that helps subsidize research into treatments and cures for pediatric cancer.
"We do the fundraiser during our empathy week of camp, which focuses on various replacement behaviors: giving compliments, making others feel better, helping/doing nice things for others, and interpreting emotions of others," said Gabrielle Desnouee, Elwyn's Director of Autism Services. Prior to the fundraiser, the campers read and discuss the book Alex and the Amazing Lemonade Stand, written by Alex Scott's parents, Jay and Liz.
"The lemonade stand concept fits well with this week. The children understand that there are others in need, and they really like helping out. They know that the money they have helped to raise goes to help sick kids get better," explains Desnouee.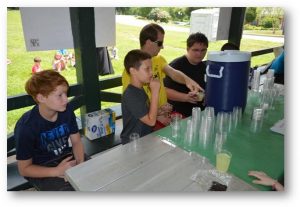 The T-Camp participants and staff sold baked goods, lemonade, and paper airplanes, bringing the total amount of their contributions in the last five years to more than $2,900.
Elwyn's T-camp has been a resource for children with autism and their families for more than 11 years, quickly filling to capacity, with many families clamoring until June to get a spot for their child. The goal is to provide a supportive, therapeutic environment that increases socialization and communication skills while decreasing problematic behaviors. It is a typical camp experience, with all the enjoyable activities that children experience in summer camp, like swimming, horseback riding, and trips into the community to bowl, go to the movies, or eat out.
###
About Elwyn
Founded in 1852 in Pennsylvania as a school for children with intellectual disabilities, Elwyn has always been at the forefront of innovation. Today, it is a premier educational and behavioral health organization, helping children and adults with special needs maximize their potential. Headquartered in Media, PA, with an expansive list of community residential sites, local schools, workplaces and individual homes, Elwyn is present in four states and is continuing to grow. The organization employs more than 2,700 people and serves more than 13,000 individuals each year. Elwyn's philosophy is to engage, empower and enrich every individual in its care. For more information, call 610.891.2000 or visit dev.elwyn.org.