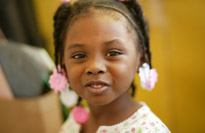 Elwyn is one of the nation's oldest private non-profit organizations serving people with intellectual, developmental and behavioral challenges. Founded in 1852 as a school for children with intellectual disabilities, Elwyn has grown into a multi-state human services organization assisting children, adults and their families at campus locations, community sites, local schools, workplaces and in individual homes. The organization employs more than 2,700 people across four states and serves approximately 13,000 individuals each year. Elwyn's mission statements reads: Maximizing potential through personal commitment, collective talents and innovation, Elwyn supports individuals with diverse challenges in shaping distinctive, meaningful lives.
Elwyn delivers programs in the following service areas:
Programs are offered for both children and adults with mental illness. Our adult programs include community and campus-based residential programs, adult day programs, supported employment and sheltered workshops, behavioral health services, and case management services. Children benefit from school-based, after-school, and summer activities as well as extended assessment and wraparound services. Within Behavioral Health, Adult Residential Behavioral Health Services (ARBHS) which encompasses Fairweather Lodge, have a more specific mission to help individuals in recovery to attain their personal goals.
Deaf Services provide a full range of affordable community and clinical services for individuals who are Deaf and hearing-impaired. Elwyn also operates Valley View, an assisted living program for senior adults who are Deaf or Deaf/Blind.
Elwyn provides quality early learning experiences for children and families with two major programs. The Development Center houses accredited preschool and child care programs. Special Education for Early Developmental Success (SEEDS) serves children in both the Chester/Upland and Philadelphia School districts and serves approximately 5,000 preschool age children every year.
Education programs provide a rich learning environment for students ranging in age from three to 21 years and are designed to support each student in achieving his or her maximum potential in preparing to live and work independently, and in building self-determination, purpose and independence.
Elwyn provides a wide range of health services for individuals served by Elwyn programs, and services for those living in the community, including two dental clinics specializing in services to individuals with disabilities. Elwyn is also a leader in genetic services and is a designated Fragile X Center of Excellence.
Supports for Living are available in Pennsylvania and community-based residential options and day programs are available in New Jersey. Residential options include campus living, community-based homes and apartments, supported living arrangements, in-home supports, life sharing, and respite opportunities. There are also specialized residences designed to provide the additional support needed by residents who are medically fragile, individuals with Prader-Willi Syndrome, and people with limited communication skills.
Work and Adult Day Services provide work opportunities for people with disabilities in Pennsylvania, New Jersey, Delaware and California. Our programs and services include Adult Training Facilities, Work Centers, Placement and Employment Support Services, and Elwyn Industries. We are also an Employment Network under the Social Security Administration's Ticket to Work Program.
Elwyn also operates several subsidiaries, including: Elwyn NC, a non-profit organization providing community-based residential services to medically fragile individuals and to severely behaviorally challenged individuals in northern California; PEMS (Provider Enhanced Management Services) a for-profit corporation with the depth and breadth of resources and cross functional expertise needed to implement provider reimbursement, financial, administrative and electronic solutions; Grace Pharmacy, Inc. a for-profit, full-service pharmacy specializing in long-term care.
For location-specific services offered, please visit the individual location service areas of our website.