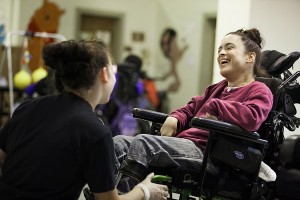 A.D.A.P.T.: (Assistive technology, Developmental activities, Augmentative communication, Person-centered planning, Therapeutic intervention). Specialized services for individuals with complex physical challenges and medical needs, including various A.D.A.P.T. Program. The primary goal of the program is to provide each individual with the support and training they need to live more independently and to gain increasing control over their environment. Daily activities provide sensory stimulation, therapeutic positioning and range of motion exercise to improve physical strength and flexibility for improved functional use. To integrate individuals into the communities where they live, we coordinate special trips to places like the movies, mall, boardwalk, casino, zoo, and aquarium. Individuals also participate in a variety of local fundraising activities, selling arts and craft items to purchase a carbon monoxide detector to donate to a local fire department, holding a dance to benefit the Martin Luther King Foundation, and collecting goods and soda can tabs for the Ronald McDonald House of South Jersey.
Professional support services available at A.D.A.P.T include a Licensed Practical Nurse on site daily and a Physical Therapist on site twice per week. Individuals also have access to Community Professional Supports and Training.
A.D.A.P.T. training programs include:
Visual, auditory, and tactile
Personal hygiene and grooming
Social and adaptive living skills
Communication and use of assistive technology equipment
Fine and gross motor skills
Arts and crafts
The use of a computer with touch screen and Intelli key/switch plate accessibility
The A.D.A.P.T. Program is located at 1667 E. Landis Avenue, Vineland, NJ.