(855) 889-7827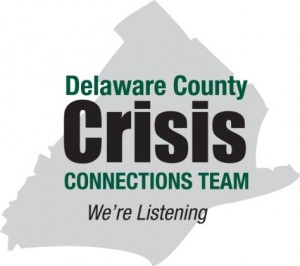 Delaware County Crisis Connects Team (DCCCT) consists of services available to Delaware County residents who may be at risk for emotional crisis.  The service continuum was developed in collaboration with Elwyn, The Delaware County Department of Human Services Office of Behavioral Health, and Magellan Behavioral Health of Pennsylvania, Inc.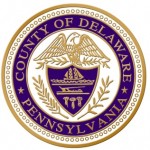 Philosophically and programmatically, DCCCT's goal is to provide crisis services that are recovery-oriented, trauma-informed, evidence-supported, and community-integrated.  We strongly believe that crisis is a community issue, not just an individual issue.  As such, we view ourselves as a community resource available to assist community members in addressing a community need. Rather than viewing people in isolation, we consider them part of interconnected spheres of natural, professional and community relationships.  Our services therefore seek not only to help the person but also to fortify those around the person through education and support during a trying time.
DCCCT Mobile Crisis is available to dispatch to any Delaware County location.  Mobile Crisis is licensed by the Pennsylvania Office of Mental Health and Substance Abuse Service (OMHSAS) to serve children and adults who require in-person crisis support.  Upon dispatch, teams of highly trained and credentialed professionals come to wherever a crisis is happening, such as a home, school, police station, shelter, places of business, outpatient clinic, or any other community location in Delaware County.  Upon arrival at the location, our teams assess the individual's needs, provide brief therapeutic interventions to help them regain control of their situation, and offer a menu of referral options appropriate to meet their current need.  Relying upon a rich referral network, our teams then help individuals link to the mental health support services they need, whether those services are provided by community supports or professionals such as outpatient or inpatient settings.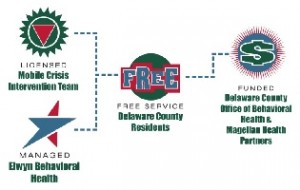 Concerned members of the community can also access Mobile Crisis when they feel that someone else requires immediate psychiatric evaluation at one of the County crisis centers.  The team dispatches to the community location and, if the individual meets the legal criteria for involuntary psychiatric evaluation, works with community supports to petition for involuntary psychiatric evaluation under the Mental Health Procedures Act of 1976.
DCCCT Mobile Crisis is available 24 hours a day, every day of the week by calling:
Mobile Crisis: 855-889-7827
Contact Information:
Tracy McAlee, Clinical Director
Office Phone: 610-891-2173
tracy_mcalee@elwyn.org