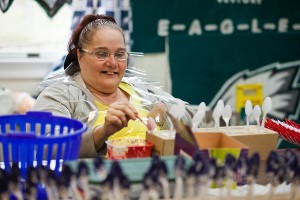 Work and Adult Day Services provide a comprehensive approach designed to provide individuals with opportunities for meaningful participation in daily life. Services provide opportunity for personal growth, social/recreational activity, vocational development and retirement. These services are offered in specialized facilities on our Media Campus and in communities. Our services are individually tailored to support each individual's needs and interests, ranging from learning daily living skills to managing benefits when embarking on a career. We offer services in Southeastern Pennsylvania, Delaware, California, and New Jersey. Our goal is to enable individuals to achieve their highest level of independence and lead meaningful lives.
Executive Director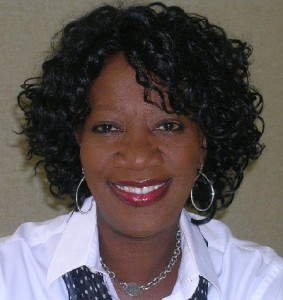 Kendra L. Johnson, Executive Director Kendra L. Johnson has over 20 years of experience in the human services field and holds a Master's degree in Human Services from Lincoln University. She began her career at Elwyn in 1991 as a direct support professional within residential services and moved up through the ranks holding various positions. In 2000 Kendra joined the corporate quality department, working with various programs such as early intervention, education, intellectual disabilities and behavioral health towards their quest for continuous quality improvement. She left Elwyn in 2001 to work for The Association for Independent Growth (TAIG), initially as the director of Day Services and ultimately as the Associate Vice President of Program Services. Kendra rejoined the Elwyn team in 2007 as the Associate Director of Work Services: Programs and progressively advanced. In November 2013 she was appointed Executive Director, Employment & Adult Day Services. In this role Kendra is responsible for the oversight and strategic direction of the Employment & Adult Day Service area.
Employment & Adult Day Services
Work Centers
Elwyn's Work Centers support individuals and encourage them to develop appropriate work habits, attitudes, and skills in a structured and supervised setting. While performing contract work, individuals learn task completion, safety in the workplace, problem solving, following directions, and dependability. Individuals earn a commensurate wage for their work and receive a paycheck every two weeks. There are also opportunities to participate in career classes geared toward readying individuals to move on to competitive employment in the community. The work centers range in size from 60 people to 160 people and have direct staffing in ratios ranging from 1:6 to 1:15, depending on needs. There are work centers located in Philadelphia and Delaware counties in Pennsylvania; Vineland, New Jersey; Wilmington, Delaware, and Orange County, California. Elwyn serves over 900 people each year in these workshops.
Adult Day Centers
Elwyn's Adult Training Facilities support individuals with developmental disabilities by offering opportunities for personal growth, community and vocational experiences, and relationship building. Our facilities provide a clean, safe environment where individuals are treated with respect and dignity in an atmosphere that builds self-worth and encourages learning and friendships. Adult Day Care provides both facility-based and community-based opportunities. A variety of staff-to-consumer ratios are offered to meet the needs of each consumer and to support them so that they can achieve their highest level of independence. Activities to develop skills related to daily living, communication and socialization are encouraged through community referenced instruction, volunteering, and on site training.
Senior Centers
Elwyn also provides day programming that is specifically geared toward seniors with services more reflective of their needs. The programming focuses on maintenance of health and safety and provides social and recreational opportunities to maintain a stimulating day environment. We have senior centers in Delaware County, Pennsylvania, Vineland, New Jersey, Wilmington, Delaware, and Fountain Valley, California to meet the needs of those with dementia.
Employment Services
Career Supports/Supported Employment are services provided primarily in the community, related to finding and keeping employment. Services include community assessment and training, both on the job and at our Philadelphia site. We offer job placement and job support services in a wide variety of fields and locations. We are also an employment network and offer Ticket-to-Work services that assist individuals in managing Social Security benefits when beginning or returning to work. Services include vocational evaluation, skills training, job placement, and post-placement training and support. Transitional employment opportunities or group placements such as mobile crews are also included.
Work and Adult Day Programs