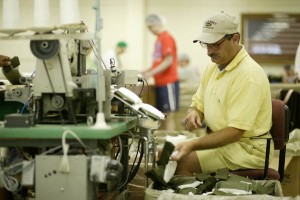 Elwyn's Manufacturing and Outsourcing Services include a diverse clientele ranging from food manufactures to publishers, hospitals to consumer product companies, the Department of Defense to order fulfillment companies.
So, whether you have a light assembly job, need packaging and order fulfillment assistance, custom labeling, or have a warehouse distribution problem, Elwyn has the resources and capabilities you can trust to provide the services you need.
Outsourcing Services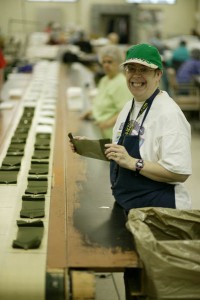 Sometimes it just doesn't make sense to do a job in-house. Dozens of local and national companies count on Elwyn to get the job done. Put your goods in good hands at Elwyn Industries. Elwyn serves as an outsource manufacturing facility providing cost-effective alternatives to flourish your business while maintaining your business' fine reputation.
Order Fulfillment
Elwyn prides itself in helping large fulfillment businesses, such as, TV Guide and the NY Post, to store and fulfill more than 3 million products per year. We, also, individually wrap, seal, package, and ship for a wide variety of other commercial and governmental customers.
Light Assembly
Time intensive tasks, such as removing or replacing price stickers for 10,000 pairs of shoes or sorting and packing collector sets, can be too costly for in-house skilled workers to focus on. We provide these services at a fraction of your cost.
Products
Our Distribution Center is equipped with computerized tracking and freighting systems in addition to industrial material handling equipment operated by certified personnel.
Bandages
The U.S. Military relies on Elwyn to prepare, package, and ship sterile bandages for their armed forces.
Packaging
Custom packaging of items such as Compact Discs, DVDs, rolls of tape, sugar packets, comic books, and many other promotional items for a variety of customers.
Labeling
Printing and affixing custom labels on such as items as jars for specialty markets, address labels on promotional items, and shrink band labeling for companies as large as Domino Sugar.
Kit Packing
Sorting and Packing a variety of sometimes unrelated products into one resalable item can be a costly burden on your bottom-line and can remove the focus of your skilled workers from more specialized functions. The breadth of our knowledge and experience can be exhibited by our intimate knowledge of the wide variety of regulatory and quality requirements mandated by the United States Department of Labor, United States Department of Defense, Food and Drug Administration, National Industries for the Severely Handicapped, Pennsylvania Department of Transportation, and Occupational Safety and Health Administration.
Contact Us
Bruce L. Tarkoff, Executive Director
Elwyn Industries
1 Judy Way
Aston, PA 19014
610-497-3492
Bruce_Tarkoff@elwyn.org
For Services in California Contact:
Marsha Sadnik, Director of Operations
18325 Mt. Baldy Circle
Fountain Valley, CA 92708
714-557-6313 x-38209
Marsha_Sadnik@elwyn.org