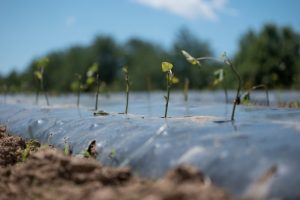 The Elwyn Farm is an agricultural area on the Media campus originally created in partnership with Greener Partners in 2009. The Farm is an actual working farm, where Elwyn's students learn, as part of their Transition Program, how to plant, nurture and harvest vegetables and fruits.  In addition to the hands-on practice growing the plants, the students learn to market the goods and have the satisfaction of seeing them used in everyday operations at the Davidson School.
Elwyn Farm Program Community Contributions
Last year, the farm harvested 24,617.5 pounds of organic produce and 1199 pounds of food were donated to the Media Food Bank. In addition, 528 people in Elwyn's care, both on campus and in 30 community homes, benefited from the Elwyn Farm program's harvest.
Their experiences in the Elwyn Farm program provide valuable insight to the students. In addition, they learn skills that they can use and rely upon graduation, either for personal enjoyment or for professional employment. The activities they engage in are directly related to Elwyn's core values of Integrity, High-Expectations, Safety, Accountability, Sustainability.
Explore More About the Elwyn Farm Program
To learn more about the history and benefits of the Elwyn Farm program, view our other links:
For more information, contact:
Ethan Brazell
Ethan_Brazell@elwyn.org
Elwyn Farm Location:
On Media Campus
111 Elwyn Road
Media, PA 19063