Elwyn Farm History Timeline
1857 – Cornerstone laid for initial building set on 60 acres of farmland
1859 – A farmer, Isaac Jaquett was hired and the farm and cottage outfitted
1860 – Farmhouse renovated to accommodate 8 people
1872 – Farming became a part of overall training program and a farm of nearly 100 acres furnished work and produced food for the residents
1878 – Buckley Farm purchased (32 acres)
1903 – Piggery operations expanded and moved to Skycrest property continued operations until 1965
1905 – Grounds totaled 337 acres, 175 acres used exclusively for farmland
1935 – Grounds totaled 400 acres majority of food used is provided through farmland and fruit orchards
1940 – Greenhouse constructed on Washington Road, used by farm for early plantings from February through May
1948 – Farm produced nearly all food needed for the campus
1960 – Farm and orchards produced much of fresh fruit and vegetables
1969-1974 – Major reconstruction and modernization of campus; eight new buildings constructed, farm operations began phase out
Elwyn's Agricultural Past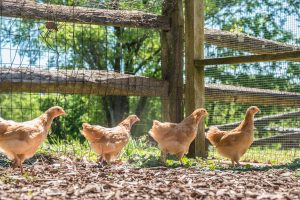 For over 150 years, beans have been planted, squash flowers have blossomed and farmers have dug for potatoes on the land where Hillside Farm exists today.  The rich tradition of farming on this land has its roots in the vision of a forward-thinking 19th century doctor named Alfred L. Elwyn.
In 1857, when Dr. Elwyn set out to expand his paradigm-shifting approach to the way people with disabilities were cared for, he chose to do it on 60 acres of farmland in Media, PA.  Dr. Elwyn's school, the first of its kind in the Philadelphia area, sought to provide children with disabilities not only with a proper education, but also with meaningful work.  From the school's inception, farming was integral to students' education and therapy.
In 1859, Elwyn hired its first full-time farmer, Isaac Jaquett, to develop the land's agricultural potential. In addition to food production, Elwyn envisioned farming as something that could help the residents to develop work skills, self-sufficiency and a sense of purpose.
By 1872, the farm had grown to nearly 100 acres and farming had become part of an overall training program that provided work and produced food for the school's residents.  As the Elwyn Institute grew as an organization and the campus expanded, so did the farming operations.  By 1905, the campus grounds totaled 337 acres, of which 175 were used exclusively for farmland.
For nearly 100 years, the farm on Elwyn's campus flourished and included not only vegetable production but also an orchard, a dairy and a piggery.  By 1960, the farm was meeting nearly all the campus' food needs.  As Elwyn President Sandy Cornelius has noted, the residents at Elwyn, "…did everything. They were a self-contained community."
Elwyn Farm Revived
In 1969, Elwyn began to greatly expand its social services and eight new buildings were constructed on the Media campus.  As the organization grew, the farming operations began to be phased out.
The once rich fields lay fallow for over thirty years until a fateful conversation in 2008 between Greener Partners' founder Jason Ingle and Elwyn Board member Bill Rouse.  They had an exciting idea:  Why not resurrect Elwyn's farming heritage and at the same time fulfill Greener Partners' mission to connect communities through food, farms and education?
Ingle, along with other founding members of Greener Partners, saw the open space on Elwyn's campus as a perfect location to launch their first large-scale community supported agriculture (CSA) initiative.  The partnership between Greener Partners and Elwyn was a natural one as both organizations share the same commitment to environmental stewardship and community.
On April 15, 2009, farmer Ben Weiss of Greener Partners crouched in the wet fields and planted onions, spinach and kohlrabi.  Later that day, members from both organizations held a ground-breaking ceremony to celebrate the return of Elwyn's land to its agricultural roots.
For more information, contact:
Ethan Brazell
Ethan_Brazell@elwyn.org
Elwyn Farm Location:
On Media Campus
111 Elwyn Road
Media, PA 19063