Having a fully functional farm on our campus conserves resources—in ways too numerous to list here– and is a new and creative way to engage Elwyn students, staff, stakeholders and the business community by growing and selling thousands of pounds of fresh organic vegetables, fruits, herbs and flowers. The farm program certainly supports our core value of sustainability.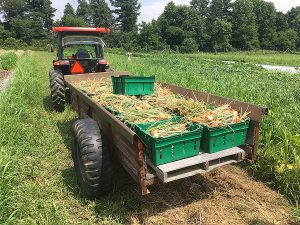 Selling these products on campus, supporting community food banks and playing a pivotal role in our education curriculum, all contribute to the prosperity and success of Elwyn, which, in turn, contributes to a permanent, sustainable Elwyn.
Approximately 20 students per year work on the farm and in the fields and another 20-25 students work at our farm stand. Additionally, every student (370+) works with our fresh, organic produce in our Healthy Harvest Center (taught by a certified chef) within the Davidson School.
Read about Elwyn Farm in the Community in an article from the Elwyn Farm Inquirer.
For more information, contact:
Ethan Brazell
Ethan_Brazell@elwyn.org
Elwyn Farm Location:
On Media Campus
111 Elwyn Road
Media, PA 19063