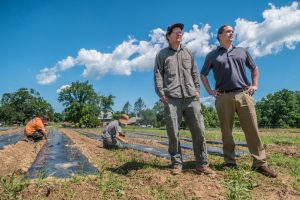 Students from Elwyn's Davidson School make regular visits to the farm and participate in the important work of growing food and tending to the fields.
Students learn:
How to seed, maintain, and harvest vegetables at a working, organic farm
Where real, healthy food comes from and how to handle and utilize it properly
Work-related skills that build a foundation for future potential work on an organic farm after they graduate school
For many of our students who come from underserved urban environments, the Elwyn Farm is the first time they have the opportunity to experience the power to grow produce and work in a farm setting.   Our special needs students learn transformative life skills from team work to motor skills through practical on-the-job experience and training.  Our students with a range of disabilities develop the life skills needed to transition successfully from school to adulthood. Elwyn distinguishes itself from other programs by making the great American tradition of farming integral to our disabled students' education plan.
Working hours are designated during school hours as a part of their school curriculum. Parental involvement is key to the success of the students and there is a specific checklist for them to follow for the duration of the 7-year program and time on the farm.  The produce from the farm is distributed through various outlets.
 Elwyn Farm Today: The Harvest
Last year, the farm harvested 24,617.5 pounds of organic produce.
528 people in Elwyn's care, on campus and in 30 community homes, reaped the benefits of the farm.
1199 lbs of food were donated to the Media Food Bank
To provide our disabled students with the life skills they need to adapt to daily living, we have embraced the great American tradition of farming to provide the mechanism to learn a host of life skills.  Farming helps students with disabilities to learn and experience first-hand the value of teamwork, motor skills and even math through the sale of the produce. The Elwyn Farm offers students an experience not available to them in traditional school settings.  Students benefit in so many ways; they learn how to farm; grow produce; work as a team; enhance their motor skills and enjoy working outdoors.  Through their Elwyn Farm involvement, they experience first-hand how they can impact the community, their fellow students, teachers and staff at Elwyn. The produce grown at the Elwyn Farm is sold to the staff and teachers and distributed to the Elwyn residential homes in the community.  The students themselves benefit from a balanced and nutritious lunch with produce from the Elwyn Farm.
The Elwyn Farm program empowers our students' ages 14 to 21 in developing the skills needed to successfully transition from school to work through participation in a variety of school and community-based work experiences, while keeping interests, preferences, and strengths in mind.