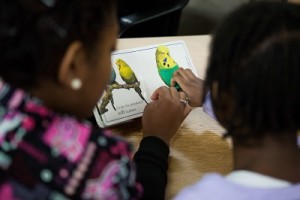 PACT is a parenting education and training program established by Elwyn in cooperation with Children and Youth Services of Delaware County in Pennsylvania. The program has been in existence since 1993 and is funded by Delaware County CYS. It is administered by Elwyn, a private non-profit agency that has historically served people with disabilities. The primary focus of the PACT Program is developing interactions that nurture and teach "at risk" parents. Elwyn's PACT Program is for families in need of support to improve parenting skills. Through a combination of home visits and center-based education, PACT staff helps parents learn how to use positive discipline and how to set age-appropriate expectations for their children. When necessary, parents are directed to other community resources for mental health, drug and alcohol counseling, housing, early intervention and more. PACT is designed to reduce the risk of abuse and neglect of young children in families that are in stressful situations, to increase parents' effectiveness in providing stimulation, discipline, and structure in a safe and nurturing environment and to address parents' self-esteem issues and their potential to overcome the effects of past abuse and neglect. The Parents and Children Together Program offers the opportunity to increase parent-child bonding and strengthen parent-child relationships, while maintaining the integrity of the family and preventing the necessity of out-of-home placement for children. PACT services are for the parents of children (birth to 16 years) in the home who are at risk for abuse and/or neglect; parents of children (birth to 16 years) who are trying to regain custody of their children; and parents with intellectual disabilities who have children (birth to 5 years) and who may need support services or specialized parental training.
Through center-based and home-based training, parents are offered appropriate parenting skills through an individualized hands-on approach, combined with a presentation of common practices in child development and child rearing. A synopsis of PACT Programs is as follows:
Traditional PACT : center-based instruction every week, with home-based instruction every other week, for 6 months. Breakfast, lunch and childcare is provided for center-based sessions;
PACT for Parents with Intellectual Disabilities: in-depth evaluation of parenting strengths and needs, as well as, Independent Living Skills training. Small group center-based training in parenting skills and life skills, as well as, individual in-home sessions;
Teen PACT & Young Parents PACT: education and training for parents under the age of 22 and their children. Once a week, center-based instruction with home visits, as needed;
Latency (School-aged) PACT: PACT training for parents with children 6 to 12 years of age. Once a week, center-based instruction;
Evening PACT: once a week, center-based instruction for working parents with bi-weekly home-based instruction.
In addition to the aforementioned Parents and Children Together Program (Darby & Chester, PA locations) services and program information, Elwyn also provides Clinical Visitation services through a contract with Delaware County Children & youth Services. Interagency teams including CYS, Elwyn, other involved agencies and the referred families determine each case status. The team considers case variables such as length of time the child(ren) has been in placement and any court orders that may be in place. The program employs three visitation specialists and one supervisor.
The goal of the Clinical Visitation Program is to ensure permanency for youths recently placed in out-of-home care (residential, foster care, kinship care), by decreasing the length of stay. Experienced staff works with CYS and the family on a visitation plan, and permanency outcomes are expected within twelve months of referral to the program. The visitation plan determines the expected length of service for each family. In addition, and if applicable, aftercare visits are provided as an extension of services for up to six months, especially for children who have been reunified with their biological parents/families.
Additional Information
For more information about Darby PACT and Visitation Programs, contact:
Robert D'Antonio, Ph.D.
Director of Community Based Services
862 Main Street
Darby, PA 19023
Phone: (610) 461-4847, ext. #11
Fax: (610) 534-7083
For more information about Chester PACT, contact:
Michelle Stanton, MSS, LSW
Chester PACT Coordinator
106 West 15th Street
Chester, PA 19013
Phone: (610) 874-9388
Fax: (610) 874-3808
For more information about Clinical Visitation Services, contact:
Rachel Curry, MSW, LSW
Clinical Visitation Supervisor
862 Main Street
Darby, PA 19023
(610) 461-4847, ext. #21