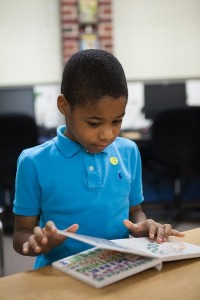 The Treatment and Learning Center RTF at Elwyn's Media Campus provides intensive behavioral assessment and treatment services for children and adolescents (ages 6-20) with an autism spectrum disorder, developmental disability, and/or a related genetic syndrome who have unresolved chronic behavioral issues. The program uses a holistic approach in assessing and treating the "complete child" within the context of his or her family and community environment. Program services include a warm, family-like cottage setting, educated and clinically trained staff, active therapies, special education on campus, if appropriate and possible, community integration, active family or surrogate family participation, and supports to enhance viable discharge to the family, surrogate family, or less-restrictive community-based setting.
Our Commitment
The Treatment and Learning Center intends to maximize growth and independence for all individuals and their families. Supports promote social development, psychiatric stability, recreation, community interaction, and other aspects of daily living.
Our Services
Accurate diagnosis and treatment of medical and psychiatric disorders that may be contributing to the behavioral difficulties experienced by the child and family;
Behavioral analysis to determine the functions of a child's behavior resulting in the development of teaching approaches which address skill and communication deficits that are contributing to the maintenance of the behavior;
Individualized treatment recognizing that each child is unique with different strengths and needs and requires different levels, types, and amounts of interventions and supports;
Family training, counseling, and service coordination to prepare the family to continue to support the child upon returning home.
Examples of treatment protocols and/or interventions that may be utilized during treatment:
Identification of reinforcers and regular reinforcer assessment
Identification of antecedent variables and antecedent interventions
Identification of triggers and development of functional, replacement behaviors
Imitation, shaping and chaining of behavior
Functional communication training
Verbal Behavior techniques and protocols
Generalization and maintenance of behaviors across settings
Use of written or picture stories to help children identify another person's point of view in social situations and to recognize and practice appropriate social communication.
Use of pictures to teach communication skills such as tacting (labeling an item) and manding (making a request)
Use of picture schedules
All treatment interventions are individualized and based on the specific strengths and needs of the child.