Special Education for Early Developmental Success
In the event of inclement weather, SEEDS programs and office follow the inclement weather schedule of the School District of Philadelphia.  Please watch or listen to the media or check the School District website at www.philasd.org for the latest information.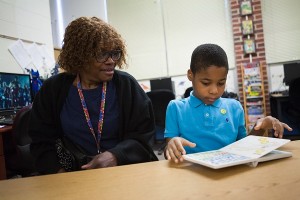 Elwyn's Early Childhood Services has contracted with the Pennsylvania State Department of Education through its partnership with the Department of Public Welfare and the Office of Child Development and Early Learning (OCDEL) to provide Preschool Early Intervention to eligible young children in Philadelphia and the Chester-Upland area. This program is referred to as Special Education for Early Developmental Success (SEEDS). SEEDS provides Preschool Early Intervention for eligible children 3 to 5 years of age living in the city of Philadelphia and in the Chester-Upland area of Delaware County.
SEEDS coordinates Preschool Early Intervention services, performs multi-disciplinary evaluations, and contracts with provider agencies for ongoing Preschool Early Intervention services. Children are served in the least restrictive environment possible to meet their educational and developmental needs. Locations can include the child's home, a Head Start center, a community day care or nursery school, or a center-based Preschool Early Intervention program. Services include special instruction, occupational therapy, speech therapy, physical therapy, and nursing or any combination of these.
Do you think your child needs Early Intervention Services and is between the ages of 3 and 5 years old? Call 215-222-8054 to make an appointment for an evaluation. Do not hesitate to contact us with any questions, concerns or issues about SEEDS Preschool Early Intervention services.
Learn more information about services and departments at the links below.
Philadelphia SEEDS
Seedlings Early Childhood Center Information (pdf)
Directions (pdf)
Cómo llegar a nuestra oficina para las evaluaciones (pdf)
Annual Calendar for 2018-2019 (pdf)
Community Referral Form (pdf)
Intake and Multidisciplinary Evaluations Information (MDEs) (pdf)
List of current Service Coordinators and Contact Information (updated 02-11-2019) (pdf)
Clinical Services / Positive Behavior Support (pdf)
Transition to Kindergarten
Information concerning the transition to kindergarten can be found in the link below.
Transition to Kindergarten: A Guide for Parents (pdf)
2019 Transition to Kindergarten Presentation
Intent to Register Form – Kindergarten Age Eligible
Intent to Register Form – Kindergarten Age Eligible (Spanish)
Intent to Register Form – First Grade Eligible
Intent to Register Form – First Grade Eligible (Spanish)
Notice of Transition Process Options
Notice of Transition Process Options (Spanish)
Chester SEEDS
Information about Chester SEEDS Preschool Early Intervention. (pdf)
Resources
Small World Special Needs: Click here for access to many helpful "How To" VIDEOS, TIP SHEETS, RESOUCES in 7 different languages. Also home of "Picture This", a guide on how to make visual supports for any need, includes our Visual Dictionary for FREE downloads.
Visual Note Home 2016: a great way to communicate with families who may be challenged with reading English. (pdf)
A-list Resource Guide 2017 ("The A-List") Hundreds of new resources, websites and programs for Philadelphia families. (pdf)
The Pennsylvania Office of Child Development and Early Learning has many valuable Preschool Early Intervention resources, publications and forms available here.
Information on what to expect at your IEP meeting. (pdf)
Que Puede Anticipar en la Reunión del IEP
Philadelphia Interagency Coordinating Council (PICC) wants you to join us for all of our exciting events.  You can visit their website to view a list of upcoming events. PICC is also now on Facebook and Twitter!  Like and follow them today!
NEW! AUTISM 1-2-3 A QUICK GUIDE TO AUTISM (pdf)
Autismo 123 (Spanish pdf)
Check out the Autism Videos on Drexel University's website – a great educational and informational resource.
School District of Philadelphia Autistic Support Class Locations and Contacts (pdf)
Helpful Information for Families
Family Guide to Medical Assistance Super Hero Play (pdf)
Learning is Everywhere, Pennsylvania's Promise for Children
A Family's Introduction to Early Intervention in Pennsylvania (pdf)
Early Intervention Supports and Services: Facts for Families (pdf)
Problem Solving in Early Intervention
Transition to Kindergarten: A Planning Guide for Parents (English) (pdf)
Transicion al Jardin de Infancia: Una Guia de Planificacion para los Padres (Spanish) (pdf)
Community Resources in Bucks, Chester, Delaware, Montgomery and Philadelphia Counties at Pennsylvania 2-1-1 Online
Philadelphia Interagency Coordinating Council
Family Routine Guide – practical guide for activities of daily living
Positive Solutions: Eight Practical Tips for Parents of Young Children with Challenging Behavior (pdf)
Autism Toilet Training Booklet (pdf)
Toilet Training Booklet in Spanish (pdf)
Toilet Training Booklet in Chinese (pdf)
¡Familia, Familia!- ABA techniques that are useful in working with all children, including children with Autism. Spanish with English subtitles.
(Técnicas de ABA que son útiles para trabajar con todos los niños, incluidos los niños con autismo. Español con subtítulos en inglés)
Parent Partnership
Information about our Parent Partnership Program (pdf)
December 2018 Calendar (pdf)
December 2018 Coupon Book (pdf)
Professional Development
Looking for Professional Development Opportunities? Elwyn SEEDS' is a registered ACT 48 provider and we provide many trainings on topics relevant to Autism, Early Childhood Development, Behavior, and Special Education. Visit the SEEDS Professional Development website. All are welcome to register and attend. Click on the link above to view scheduled training by month. To register, click on the link, "Create Account" and follow the instructions.
The Pennsylvania Training and Technical Assistance Network (PaTTAN) also has many resources for families and professionals.
Internships
Information on internships in Occupational Therapy, Physical Therapy and Speech Therapy can be requested here.
Employment Opportunities
Elwyn's Preschool Early Intervention Services (SEEDS) has employment opportunities available for: Data Personnel; Certified Speech, Physical and Occupational Therapists for direct service and IEP Teams; and Certified Special Education Teachers for direct services, Service Coordination and IEP Teams. A List of openings in available here.
Research
Elwyn's Preschool Early Intervention Services partners with major universities and national organizations, such as the Center for Autism Research at the Children's Hospital of Philadelphia, for research on Autism Spectrum Disorders and topics related to preschool early intervention. Request information on current research projects or to become involved.
Notice of Destruction of Records
Please Click here to read our policy on the destruction of educational records.