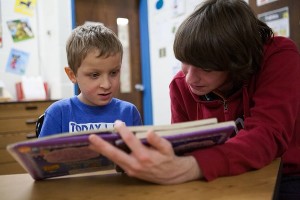 Serving Delaware and Philadelphia Counties, Elwyn's community-based clinical wraparound services are individually designed to include multiple disciplines in an effort to address the specific and unique challenges of the child. A clinical team of behavioral health professionals, which may include a behavioral specialist, lead clinician, mobile therapist and therapeutic support staff who offer families and children tools to succeed within their least-restrictive educational and living environment.
The Behavior Specialist Consultant or Lead Clinician identifies behavioral goals and intervention techniques and recommends non-aversive behavioral change methods. Then, in collaboration with the family and other members of the treatment team, the Behavior Specialist Consultant designs and directs the implementation of a behavior modification intervention plan that is individualized to each child or adolescent and to the needs of the family.
The Mobile Therapist provides intensive therapeutic services to children and their families at home, in school, and in other community settings. The Mobile Therapist provides support and assistance to the child and his or her family. The Therapeutic Staff Support works directly with the child and adolescent who displays a wide range of disabilities and functioning levels at homes, in schools, day care, or in their communities. This support person provides one-on-one interventions, including crisis intervention, behavior management support, emotional support, time-structured activities, and psychological rehabilitation.
For More Information
Main Office: 610-891-7007
Jennifer Torrey (Delaware County)
610-891-7056
Jennifer_Torrey@elwyn.org
Charlotte Iszard (Philadelphia County)
215-254-2040
Charlotte_iszard@elwyn.org
Gabrielle Desnouee (Philadelphia County Autism Specialist)
215-254-2052
Gabrielle_desnouee@elwyn.org