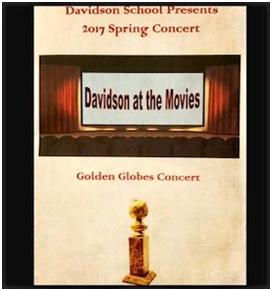 May 20, 2017 – Media, PA – Elwyn, trusted provider of autism services for kids, recently held its annual Davidson School Spring Concerts of 2017. The concerts were held at the Zier Recreation Center and allowed children to express their love of music and dance, as well as to showcase their talents.
Two concerts were held – one on May 3rd, and another on May 5th.  The themes were awards shows, the first, based on the Golden Globes and the other centered on the Oscars.  Students of all age ranges and ability levels from Elwyn's Davidson programs were invited to participate.  There was a variety of songs, dances, instrumental pieces, and/or solos.  Fitting the themes, the music was derived from movies honored by the Golden Globes and Oscars.
The concerts were a rousing success, entertaining to the participants' families and friends, as well as fellow students and staff. The performance is one of many opportunities that Davidson School offers to its students to express their love of music, dance and to showcase their talents. The Davidson School is committed to Engage, Empower and Enrich the lives of the individuals it serves.
Participants in the concerts will be treated to a celebratory party on May 22 as a thank you for their contribution of time and energy. Elwyn extends a sincere thank you to music teacher Jon Blasucci and the other staff who are dedicated to providing the best experience possible for students through events like the concert, as well as other excellent autism services for kids.
About Davidson School
Davidson School, Elwyn's licensed and approved Private School for students with special needs, provides autism services for kids, but eligible students also include those who are neurologically impaired, deaf/hearing impaired, intellectually disabled, socially/emotionally disabled or visually impaired.The Davidson School's student body includes individuals ages 3-21 referred from Delaware, Chester, Montgomery, Philadelphia, Bucks and Berks Counties. All student programming includes enrichment classes (art, music, library, physical education, yoga) to enhance therapeutic and creative experiences for students.
About Elwyn
Founded in 1852 in Pennsylvania as a school for children with intellectual disabilities, Elwyn is one of the nation's most trusted nonprofit human service organizations, supporting children and adults with physical and intellectual challenges.  Headquartered in Media, PA, the system includes education, early intervention and early childhood services, community-based residential sites, behavioral health services, and employment programs.  In addition, Elwyn has services in Delaware, New Jersey and California; employs more than 2,700 people and supports more than 13,000 individuals each year.  For more information, contact Elwyn at 610.891.7689 or visit dev.elwyn.org.