Elwyn Ball 2019
At Elwyn, our mission remains steadfast: maximizing potential through personal commitment, collective talents, and innovation.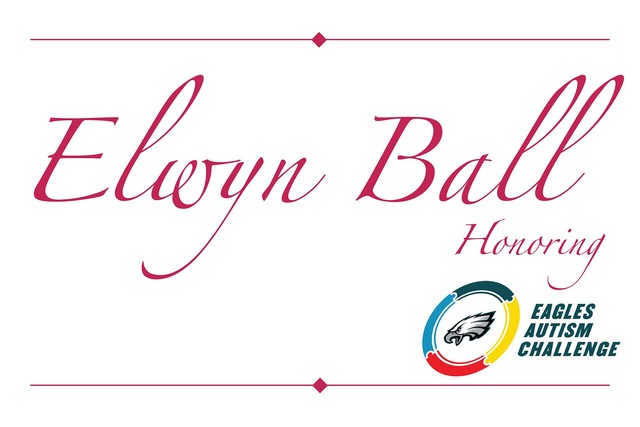 Location
525 Arch St, Philadelphia, PA 19106, USA
Date
Saturday, May 04, 2019

Principal Sponsor
Platinum Sponsor
Gold Sponsor
Silver Sponsor
Bronze Sponsor
President's Circle
Chorus Communications

Virginia and Caesar Crognale

Humanus

Bonnie and Joe Lundy

Elizabeth Uffner McLister and Charles McLister

Nyman Associates

Perspective Financial Group, an Alera Group Company

PMA Management Corp.

Porter and Curtis, LLC

Linda and Steve Siegfried & Neetsie and Barry Siegfried

TriState Capital Bank

Unidine Lifestyles

Wawa
VIP
Binswanger Companies

Brookside Construction

Canon Solutions America, Inc.

Cozen O'Connor

Exelon Generation

GEO Group Foundation

Granite Run Buick GMC, Inc.

Harris Public Health Solutions

HB Electric

Johnson, Kendall & Johnson Benefits, Inc.

Gretchen and Bob Koch

Lincoln Financial Group

Jane and Thomas McCaully

Oasis Property Group

PCA Industrial & Paper Supplies, a Division of Imperial Dade

PNC

Razor Technology

Amanda and Jim Sebra

Sun East Federal Credit Union

Sun East Federal Credit Union

Team Toyota of Glen Mills

Vonage

Wm. Henderson Plumbing, Heating & Cooling Inc.
Friends of Elwyn
Aston Carter

Bottino's Supermarkets

Delta-T Group

Fox Rothschild LLP

Lilliston Ford

Main Line Health/Riddle Hospital

Marshall, Dennehey, Warner, Coleman and Goggin

Sonja Pettingill and Steven Silber, M.D.

Porsche of the Main Line

Rendin Alarm Company, Inc.

Kyle Stiffler, M.D.

Sun East Charitable Foundation

Village Super Market/ShopRite of Landis

Waste Management

Wilkie Lexus
Committee Members
Rob Cola
Dina Daniele
Joan Emmi
Dan Foltz
Edward Goss
Ellen Goss
Gretchen Koch
Pat Larkin
David Logan
Jill Markowitz
Charles McLister
Elizabeth McLister
Kevin O'Donoghue
Adam Saunders
Sally Schufreider
Lisa Spector
Richard Stevens
Judy Strine
Accommodations
We invite you to use the Elwyn Ball group rate at the hotels listed below. In order to reserve your room, call and mention the Elwyn room block or click on the name of the hotel to reserve online.
The Broad Street Run is on Sunday, May 5th and could impact travel the day after the Ball. Additionally, the City of Philadelphia is expecting a large convention on May 4th and hotels are likely to sell out.
In order to secure your room, we suggest booking as early as possible!
Group rates are available until April 4, 2019.
Hotel Monaco
433 Chestnut Street Philadelphia, PA 19106
(215) 925-2111
Rates range from $289/night - $349/night

Loews Philadelphia Hotel
1200 Market Street, Philadelphia, PA 19107
(215) 627-1200
Rates range from $259/night - $309/night
Contact Us
Mailing Address
The Elwyn Foundation
111 Elwyn Road
Elwyn, PA 19063
Questions?
Contact Jennifer Shick, Director of Special Events
610-891-2593 or jennifer_shick@elwyn.org