Charles McLister Named 2023 Philadelphia Titan 100
Titan CEO has named Charles "Chuck" McLister, President & CEO of Elwyn, a 2023 Philadelphia Titan 100.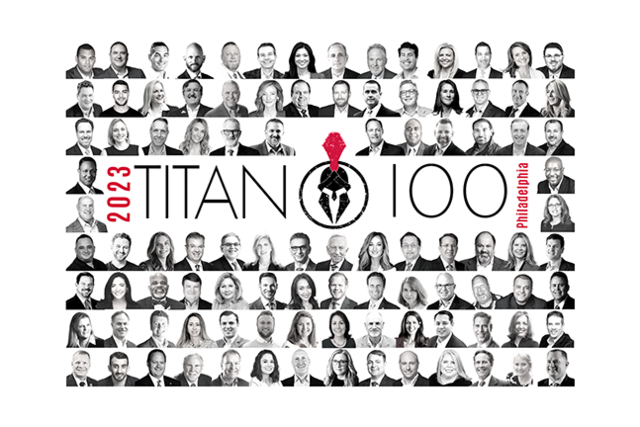 The Titan 100 program recognizes Philadelphia's top 100 CEOs and C-level executives who demonstrate exceptional leadership, vision, and passion. Collectively the 2023 Philadelphia Titan 100 and their organizations employ upwards of 93,000 individuals and generate over $33 billion dollars in annual revenues.
"The Titan 100 are shaping the future of the Philadelphia business community by building a distinguished reputation that is unrivaled and preeminent in their field. We proudly recognize the Titan 100 for their successes and contributions. We know that they will have a profound impact that makes an extraordinary difference for their customers and clients across the nation." says Jaime Zawmon, President of Titan CEO.
In his 30+ year career, Chuck has received recognition and accolades for consistent and exemplary performance in both the financial and program-based dimensions of healthcare and human services. He has a track record of success in multiple business sectors, including leadership in publicly traded firms, equity backed ventures, and non-profit leadership. He has served as an active volunteer and philanthropist, serving on the Board of Trustees for Bancroft Neurohealth, and as the Chairperson of the Hopeworks Board of Trustees, and has a strong history of active association membership in organizations such as GPSEG (now Beacon), various Chambers of Commerce, the Healthcare Leadership Network of the Delaware Valley, the Association for Psychological Science, and the American College of Healthcare Executives (ACHE). A true servant leader, Chuck believes that nonprofits have an unencumbered dedication to mission and staff while implementing best business practices to achieve aligned results.
"We are incredibly proud that Chuck is being honored as a Titan 100 for his work and impact throughout the organization and our community," said James J. Sebra, Chairperson of Elwyn's Board of Directors. "Among his accomplishments, Chuck led our 171-year-old human services organization through a financial turnaround amidst the largest pandemic in 100 years, such that Elwyn is now in the strongest position it has been in – posting $3.5 million in net operating income in FY22 and receiving an upgrade from Standard and Poor for its bond rating. His vision and dedication to innovate and modernize practices, technology, and facilities have created a sustainable business model for many decades to come."
Chuck will be honored at the annual Titan 100 awards celebration on September 21st, 2023, at The Drexelbrook located in Drexel Hill, PA. The event will gather 100 Titans of Industry and their guests for an evening unlike anything that exists in the Philadelphia business community.
About Elwyn
Elwyn is the national leader in education, treatment, and support services for over 25,000 children and adults, and proudly serves 10,000 families annually as the as the exclusive provider of early intervention services to children ages 3-5 in Philadelphia. Our mission remains steadfast, we make life better for people with developmental and behavioral health challenges. Founded in 1852 and headquartered in Media, PA, Elwyn has grown to become one of the largest and most respected human services organizations in the industry. Please visit www.elwyn.org for more information.