Elwyn And The Wawa Foundation Break Ground On New School Facility
Elwyn, the iconic human services organization, and The Wawa Foundation, Wawa's 501c3 charitable arm, broke ground today on a new school facility. The "Sledgehammer Swing" kicked off the construction of a new Student Transition Center (STC) and the first phase of Elwyn's strategic vision. The creation of the new STC is just the start of Elwyn's long-term transformation of its historic Delaware County headquarters into a modern, comprehensive children's campus.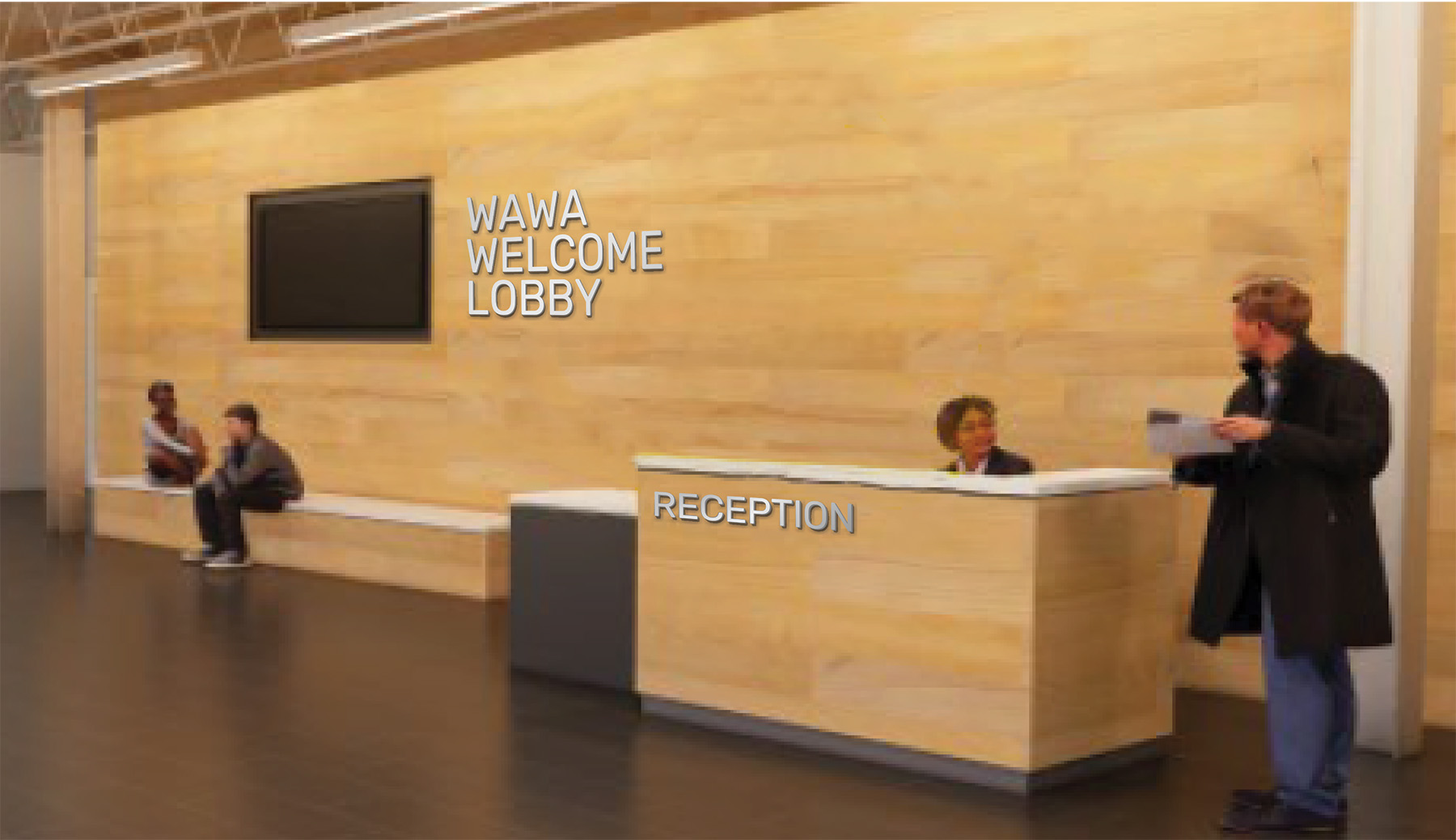 Wawa, a retail chain of 1,000 convenience stores and national leader in workplace neurodiversity efforts, recently awarded Elwyn a $250,000 grant from The Wawa Foundation for its new STC as part of its 175th Anniversary Campaign. This generous commitment will be matched through a $750,000 Redevelopment Assistance Capital Program grant from the Commonwealth.
Chuck McLister, Elwyn President & CEO, shared that "The Transition Center is key to Elwyn's campus master plan, and the first building within the footprint for our new school. We are honored to have The Wawa Foundation's generous support to make this project possible."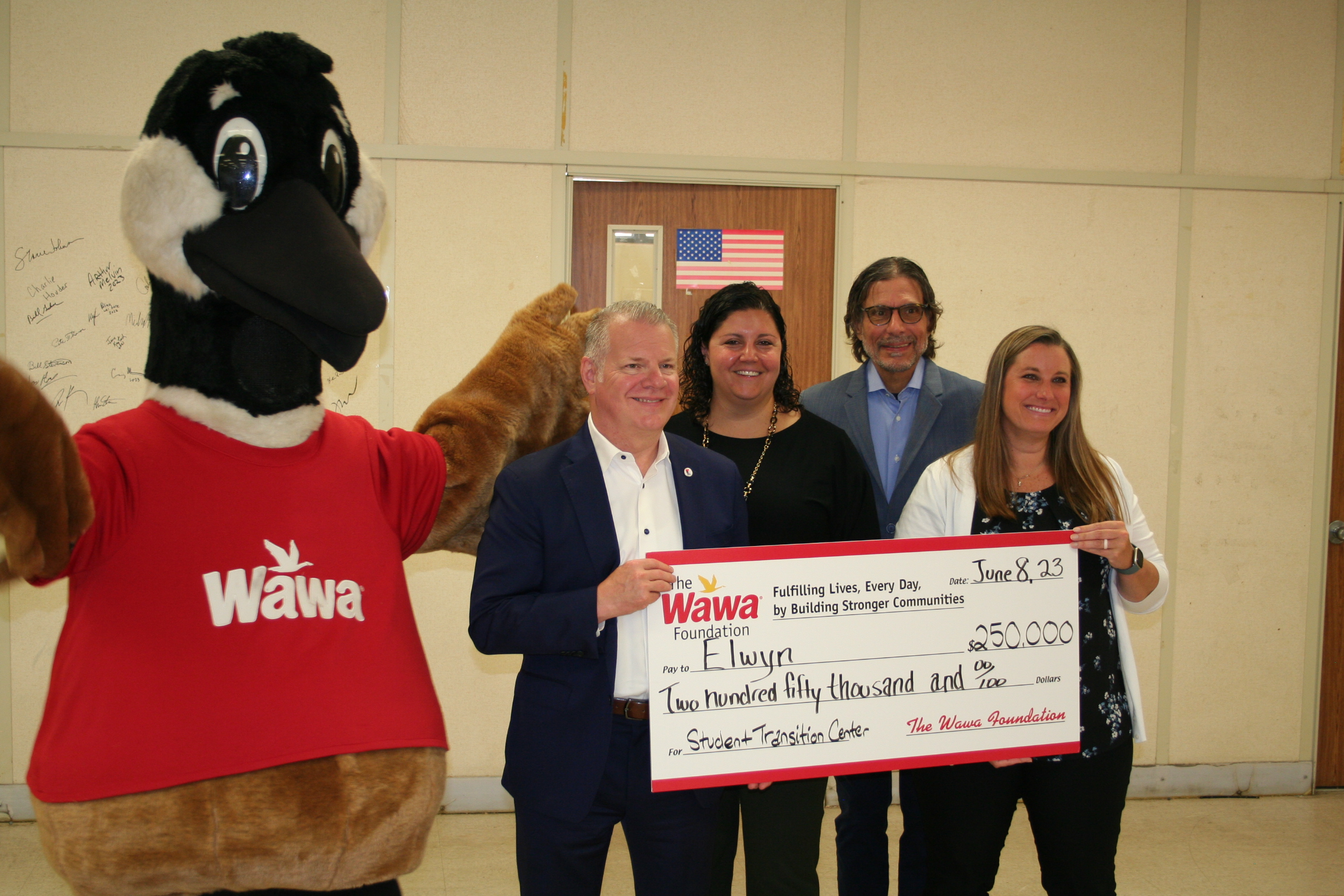 Committed to building stronger communities, The Wawa Foundation is excited to support Elwyn's STC. The convenience retailer has a long history of supporting neurodiverse individuals through its supported employment program which provides store operations employment opportunities to more than 500 neurodiverse individuals since 1981. The new STC will simulate actual jobs in the following areas: food service, cashiering, technology, warehouse operations, and retail. It also will build independent living skills with an apartment and rec room. These two features differentiate Elwyn's program from others in the area which only offer classroom-based training.
During the groundbreaking ceremony, members of The Wawa Foundation presented a $250,000 check to Mr. McLister including Maria Kalogredis, Chairperson, Liz Simeone, President, and Jay Culotta, Director Emeritus (pictured L-R).
The event featured remarks from Mr. McLister, a ceremonial swinging of a Elwyn-branded sledgehammer, Wally the Goose Mascot, and Wawa coffee and food. The highlight of the program was recognizing a group of future students of the Transition Center Program with the presentation of "moving up" certificates. Students, teachers, staff, board members, and key stakeholders from Elwyn and The Wawa Foundation were present. PA State Representative Lisa Borowski of the 168th Legislative District in Delaware County and local community advocate was also present.
It is estimated Elwyn's STC will serve up to 100 students. Construction is expected to be completed in advance of the 2024-2025 school year.
About Elwyn
Elwyn is the national leader in education, treatment, and support services for over 25,000 children and adults, and proudly serves 10,000 families annually as the as the exclusive provider of early intervention services to children ages 3-5 in Philadelphia. Our mission remains steadfast, we make life better for people with developmental and behavioral health challenges. Founded in 1852 and headquartered in Media, PA, Elwyn has grown to become one of the largest and most respected human services organizations in the industry. Please visit www.elwyn.org for more information.
About The Wawa Foundation
The Wawa Foundation is an extension of Wawa's commitment to making the world a better place by fulfilling customers' lives every day. The Wawa Foundation is a registered 501(c)(3) non-profit corporation founded by Wawa, Inc. to support the company's charitable giving and philanthropic activities – and ultimately to help build happier, stronger communities. The Wawa Foundation focuses its support on organizations committed to health, hunger and everyday heroes through local, regional and national grants and / or in-store fundraising, through donation boxes and point-of-purchase scan materials. Since 2014, Wawa and The Wawa Foundation have contributed more than $136 Million to non-profit organizations with focus areas of health, hunger and everyday heroes.