We had a ball at the 43rd Annual Elwyn Ball!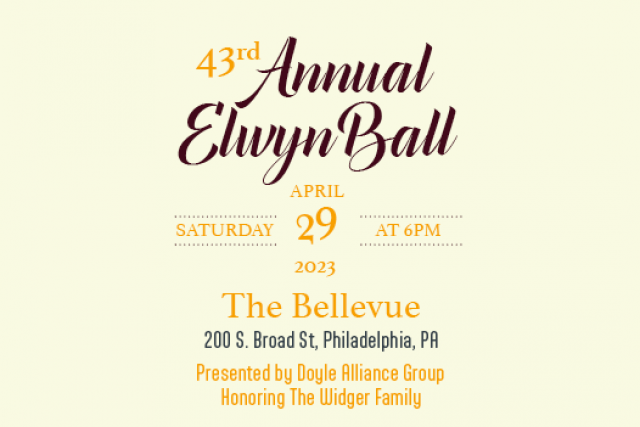 Elwyn celebrated the 43rd Annual Elwyn Ball on Saturday, April 29, 2023. 400 attendees gathered at the Bellevue Hotel in Philadelphia to celebrate the historical organization in style, raising over $800,000 setting a record for the annual soiree.
Presented by Doyle Alliance Group, and Principal Sponsor Mill Creek Capital Advisors, the event advances our mission and allows us to continue to provide new and transformative programs, services, and care to those we serve. A huge thank you to our sponsors, donors, vendors, attendees, and supporters for helping us achieve this milestone.
Guests enjoyed a night of fun, food, and dancing. Natasha Brown, co-anchor of CBS News, led our program as emcee, as we honored Charles and Barbara Widger and their children Ashley and Clark for their partnership on Clark's Manor - the first therapeutic milieu-style independent living facility of its kind in the tri-state area. The program recognized Daniel Baptista as our 2023 Judy Talley Unsung Hero; an award that recognizes an Elwyn employee for excellence within the organization. Finally, the special evening featured Deltilyn Bonal, an alumna of our Transition Program at Elwyn. Deltilyn shared her inspirational story on video, before joining us on stage. In case you it missed it, Deltilyn's story can be viewed by clicking here.
If you attended the event, please take a moment to complete our post-event survey by clicking here.
Pictures from the night can be viewed here. You can still donate by clicking here