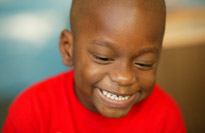 Early Childhood Services at Elwyn are committed to providing quality early learning experiences for all the children and families served. Our programs are based on the following principles:
Childhood is a valued state of life
Families need support and will be respected for their individuality
Enthusiasm for learning and an early appreciation for other's differences and abilities
Our work is family-centered and emphasizes the strengths and resources of each family
Elwyn's Early Childhood programs serve children from birth to 6 years of age. We evaluate and provide special education to over 9,000 children each year. Our goal is to ensure that children are served in the least restrictive environment possible and to provide quality services to each child and family we serve.
Executive Director
Wendy Whitesell